NEW! RiboSeq XL All In One Set
본문
NEW! RiboSeq XL All In One Set
RiboLace All In one XL is taking the stage!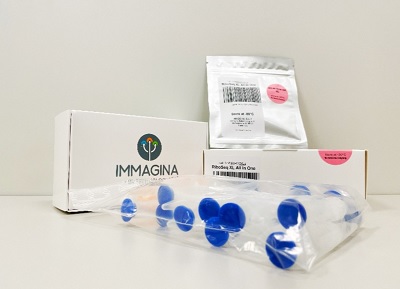 Immagina Biotechnology, the Ribosome company, released today the RiboSeq All-In-One XL system, a new
cutting-edge tool for challenging ribosome profiling experiments. This new kit is meant to address customer
needs related to lower amount of input of active ribosomes. RiboLace Module XL contains more RiboLace
smart probe and beads as the RiboLace Module 1 so that customer can pull down more active ribosomes
fromthe same sample.
Features:
• For a given amount of cells customers can pull down 3x times more RPFs by using a larger amount of cell
  lysate
• No need for multiple pull downs
• Higher yield of RPFs as input for LACEseq or alternative small RNA library preparation systems.
• Suitable for samples with lower translational activity such as primary cells in culture, smaller amount of
  tissue samples, or cells where translation is partly repressed.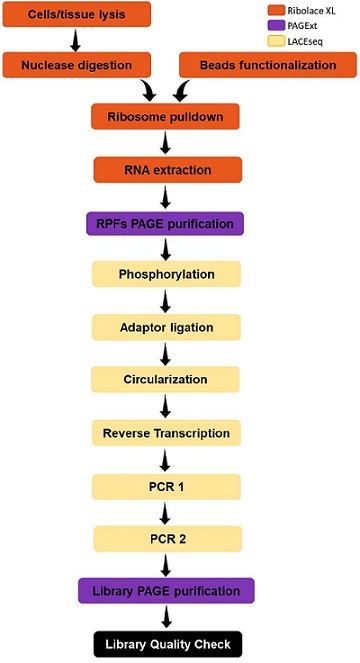 Overview of the RiboSeq XL All In One set workflow
Based upon its compelling and established RiboLaceTM technology for capturing ribosomes in active
translation, the RiboSeq All-In-One XL system is an extended version of the well-proven RiboSeq All-In-One
system enabling to capture more active ribosomes from smaller amount of input materials or less active
cells and tissues.
Recent publications have shown that there is a strong demand in the community for low sample input
ribosome profiling experiments that are not compromising the quality and accuracy of RiboSeq data
The new RiboSeq All-In-One XL system is a new milestone meeting the demand to perform ribosome
profiling experiments from challenging sample materials by increasing the ability to reliably capture active
ribosomes multiple times.  
 RiboSeq XL All In One set Protocol (PDF)
| | | |
| --- | --- | --- |
|  Set contents; | Q'ty | Storage |
|  RiboSeq XL All-In-One set 4°C components | 1 box | 4°C |
|  RiboSeq XL All-In-One set -20°C components | 1 box | -20°C |
|  RiboSeq XL All-In-One set -80°C components | 1 bag | -80°C |
|  iUDIs plate | 1 plafe | -20°C |
|  Filters and Tubes | 1 package | RT |
Ordering information
| | | |
| --- | --- | --- |
| Catalog No. | Product Name | Size |
| RS-001XL | RiboSeq XL All In One set | For 12 rxs |
▣ 관련 페이지 ; Immagina BioTechnology S.R.L.