TFF-EVs, Tangential flow filter for EV purification
본문
TFF-EVs, Tangential flow filter for EV purification
Efficient and fast purification of EVs and nanoparticles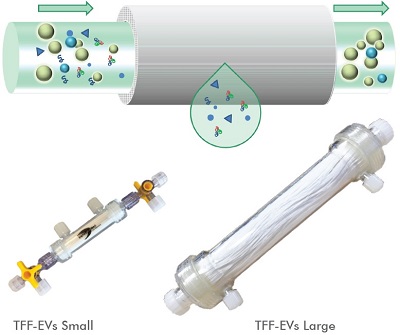 Tangential flow filtration (TFF) is emerging as one of the most efficient methods for the purification of
extracellular vesicles for. TFF-EVs allows a rapid, reproducible and scalable purification of EVs, can be
used on the lab bench for purifying small amount of samples (min 5ml) or connected with a mechanical
system for purifying larger volumes.
Speicifications;
• Hollow fiber filter pores: 50 nm
• Suitable for purification of small EVs and large EVs.
• Suitable for manual and mechanical use
TFF-EVs: bench purification workflow (manual use)

Fast purification with minimal loss of particles
1x1012particles of purified EVs (HBM PEU-100) were diluted in

20 ml of PBS 1x and then injected into TFF-EVs. Retentate

containing EVs was recovered in 5 ml of PBS 1x. The particle

content of the filtrate and retentate were analyzed by NTA

(Zetaview, Particle Metrix).
Depletion of bovine EVs from Fetal Bovine Serum (FBS)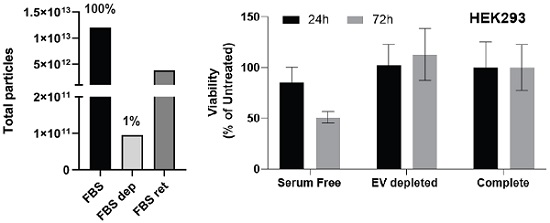 TFF-EVs was used to depleat the FBS from EVs of bovine origine. 50 ml of raw FBS were filtered through
TFF-EVs, the filtrate contained the deplated FBS, whereas bovine EVs were recovered from the retentate in
10 ml PBS 1x buffer. All the three fractions were analyzed by NTA ((Zetaview, Particle Metrix). EV depleted
FBS contains only the 1% of the total particles detected in the raw FBS.
Applications
• Easy washable
• Reusable multiple times
• Sterile
Ordering information;
| | | |
| --- | --- | --- |
| Catalog No. | Product Name | Size |
| HBM-TFF/EVs | Tangential flow filtration (TFF) for EV purification | Small/Large |
▣ 관련 페이지 ; HansaBioMed